Frequently Asked Questions
About our socks
Your Sock Shock does not like high temperatures, so remember to wash them at maximum of 30-40 degrees, turned inside out. Make sure that you do not tumble-dry your socks, do not iron and do not dry-clean.
Remember that due to the high content of cotton in the composition of knitted socks, after the first wash, the socks may slightly shrink, however, after applying, they will return to their original size.
Different types of socks include various washing methods. If you wash polyester socks, use a lower washing temperature of 30 ° C than cotton socks. Wash them in water at 40 ° C.
We do not bleach socks with bleach and do not chlorinate, we do not clean them chemically.
We do not use dryers to obtain drying of washed socks.
In order not to damage the socks, we avoid using an iron.
The easiest way is to choose the size of socks that your favorite shoes have. Sometimes the size of shoes is given in other measures, depending on the region.
Use the table below to match to find the right size.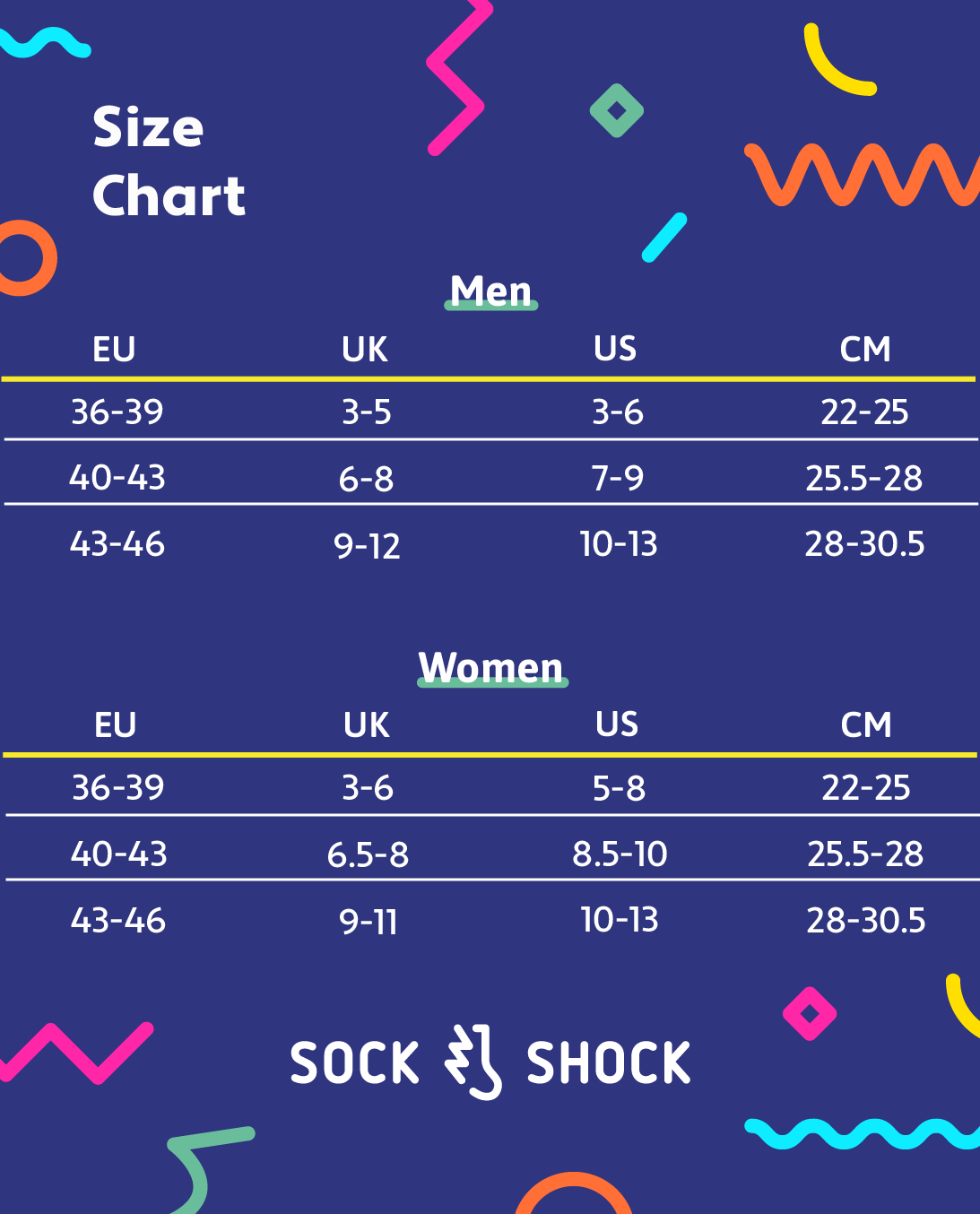 Cotton socks
80% Cotton / 15% Polyester / 5% Lycra
Full-print socks
100% Polyester
Ordering
When you have selected a garment you wish to purchase, click "Add to Cart". To complete the purchase, click on the shopping cart on the top right hand corner of the screen. This will take you through to the checkout process, where you will enter your shipping and billing address and select a payment method.
If you have trouble signing into our website, first check the specific text of the error message you received. The most common problem is a misspelled address or password (ensure both your CAPS LOCK and NUM LOCK facilities are off). If the problem persists, contact Customer Services (through the button"Contact us" at the bottom of any page) and we will email you a new password.
Yes. In the checkout process (step 2 – Delivery), you can add and select a different address from the billing address.
You definitely know your shoe number. Use the size chart to match a similar size for your socks.
When you add the products to your basket, please go to the tab BUY NOW. On the right side, the summary of the order displays, and under the list of the selected products there is the text "Do you have the discount code? Click here". When you click, the box will appear, in which you need to enter your code and then confirm. The amount of the order will be automatically reduced by the value of the previously entered code.
PREORDER status means that we currently do not have any goods in stock but we expect delivery soon. In this situation, you can place an order, but you have to take into account that shipping can take up to 14 days.
Payments
Currently, we accept all major credit cards(Master Card, Visa), PayPal and PayU.
No, you don't. However our registered users get loads of discounts for loyalty.
Create an account and be the part of our community. We often give discounts to all our loyal customers and all our Facebook fans.
Delivery
We manufacture in and ship from Poland, UE.

We offer 4 kinds of domestic delivery:
| | Courier FedEx | Polish Post |
| --- | --- | --- |
| pre-paid | 15 PLN | 13 PLN |
| cash on delivert | 17 PLN | 15 PLN |
Orders sent without undue delay - usually within 1-3 business days, not related to production. In the case of polyester orders, the delivery time may be extended to 10 days with comments on the needs of the model device made.
Returns & Exchanges
First of all contact our customer support through email, all returned items must be brand new and have all original tags attached. In order to get a refund, you need to send us your bank data necessary to make a wire transfer including your Bank account number. You can swap the size or choose something else, and we will ship your replacement within two weeks.
You have 14 days to let us know about willing of return and another 14 days to send back purchased goods.
Once the return has been approved, you will receive your refund the same way you made the payment.
Of course, unless they show signs of use and the packaging is undamaged. For exchange, please contact our customer service department.